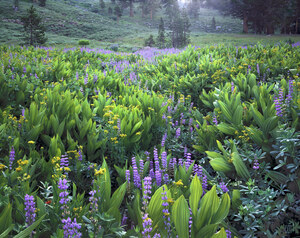 Meadow, Minarets Wilderness, California
Three of the photographs in this gallery, including this one, were made on Sierra Club burro trips, which I was helping to lead. The burro trips are a venerable tradition—the oldest surviving kind of wilderness outing in the Sierra Club's national outing program and the second kind of trip, after the annual high trips of the very early days. All three were made near here, during a pair of week-long burro trips in August 1983. A very wet winter caused an unusual profusion of flowers in the meadows and also delayed the alpine spring from July to August. This is the most luxurious floral display I have ever seen in nature. I photographed it as the sun first began to reach it. I returned to this spot after another wet winter several years later, only to find that it had been utterly obliterated by a narrow, mile-long debris flow, a mud and rock avalanche which happened for the very same reason that the flowers had — this was the wettest spot.
A burro, being essentially a wild creature at birth, is likely to posses a superior sort of personality. Also known as donkeys—not to be confused with mules (which are a cross between a male burro and a female horse)—burros are much smaller than horses or mules and can therefore be safely lead down the trail by trip participants from five to eighty-five. They carried most of our gear and food (but not us and not my camera gear) with a charming sense of resignation and a great deal of patience, although less than satisfactory speed for the fleet of foot. They need to graze at times, and so we had to bell them and let them go. A year later, on another trip, I had to walk 21 miles one day to catch them and bring 'em back. This is not one of their better features, but when my friend Dan and I, master burro trackers that we are, finally caught up to them, they came happily up to us, glad to see us, as if expecting a piece of candy, pretending they didn't know perfectly well what a terrible thing they had done.
Meadow, Minarets Wilderness, California
1983
Meadow, Minarets Wilderness, California 1983