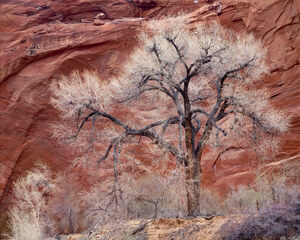 Cottonwood, Escalante, Utah
Three years before, while on another backpack trip into the Escalante, I had been greatly struck by this magnificent, oaklike cottonwood tree and had made a similar photograph. The first time had been a month later in the spring and the tree had been completely green. I again made its portrait and, upon returning to Berkeley, was pleased to discover that my composition was precisely identical, allowing for the changes of weight in the image caused by the change in the foliage. The second try was stronger, but the two would make an entertaining pair.
There is one, most endearing, animate feature of the Escalante, and of most other places in the West with high cliffs. As one who has always loved flying and visions thereof, I have been profoundly impressed by the aerial antics of the white-throated swift. Most people never notice them at all, because they only grow to about about 6 1/2 inches in length, with a 14-inch wingspan, and are usually twittering and racing about, a few hundred feet above the ground. These incredible birds, who resemble swallows, but whose closest relatives (beyond the other species of swifts) are the hummingbirds, have sacrificed their ability to take off from level surfaces, to improve their aeronautical capacities, and so must live on or in cliffs. They fly continuously, all day, except in heavy rain, and even mate while tumbling toward the ground, parting at the last moment. In absolute speed, they are slow compared with falcons on hunting dashes, but with a good tail wind they can fly the pants off anything Earthly skies have ever seen, F-18's included. I've seen them at close range, at the brink of Upper Yosemite Fall, rocketing fearless, straight down toward oblivion, then pull such a fast 180 that the wings would come off any other bird. They sound like bottle rockets as they pass. They chitter and jabber and squawk with one another at a rate, that reflects as clearly as their movement, the ultra-high speed at which they and their hummingbird cousins live. They love to fly in close formation, the faster the better, and they live by catching insects in their tiny beaks, at speeds that would seem to preclude even seeing small insects, let alone catching them. Their joy is extraordinarily evident. In my experience, they are clearly the ultimate embodiment of animal grace.
Cottonwood, Escalante, Utah
1979